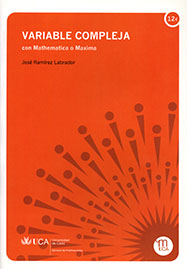 ---
This book is intended for beginners and can serve as the basis of two semesters in mathematics: a course with traditional basic contents and another based on consistent transformations and analytic continuation. Practice problems can be followed using either Mathematica or maxima, freeware software.



Este manual está pensado para los nuevos Grados y puede servir de base a dos asignaturas semestrales en Matematicás: una asingatura con los contenidos básicos tradicionals y otra basada en transformaciones conformes y prolongacion analitica. Por otra parte, obviando las demonstraciones de los teoremas, puede ser utilizado para un curso semestral en Ingenerias o Fisica.

Considerando las posibildades que ofrecen los progamas de calculo simbolico, hemos incluido un apartado con nomuerosos ejercicios de variable compleja utilizando tanto Maxima, que es software libre, como Mathematica y une introduccion a los fractales.
---