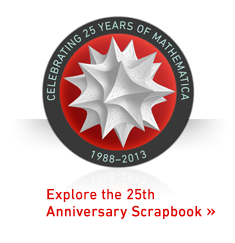 Founded by Stephen Wolfram in 1987, Wolfram Research is one of the world's most respected software companies—as well as a powerhouse of scientific and technical innovation. As pioneers in computational science and the computational paradigm, we have pursued a long-term vision to develop the science, technology, and tools to make computation an ever-more-potent force in today's and tomorrow's world.
At the center is Mathematica: our ever-advancing core product that launched modern technical computing and has now become the world's most powerful global computation system. With millions of dedicated users throughout the technical and educational communities, Mathematica represents a unique blend of major research breakthroughs, outstanding user-oriented design, and world-class software engineering.
The rise of computation has been a major world theme for the past fifty years. Our goal is to provide the framework to let computation achieve its full potential in the decades to come: to make it possible to compute whatever can be computed, whenever and wherever it is needed, and to make accessible the full frontiers of the computational universe.
We have built our company to focus on long-term goals while consistently delivering the best possible products and services on an ongoing basis. Led by CEO Stephen Wolfram, we have assembled over the past two decades a team of remarkable breadth and depth, continually attracting outstanding new talent to our uniquely productive intellectual environment.

As intellectual pioneers, our company maintains a deep commitment to communication and education. Not only are our products used at colleges and universities throughout the world, but we have also developed the world's largest free network of technical information websites, including MathWorld—the #1 website devoted to mathematics—as well as our latest major resources, Wolfram|Alpha and the Wolfram Demonstrations Project.

Among the many advances made possible by Mathematica over the past two decades is Stephen Wolfram's own groundbreaking 2002 book A New Kind of Science, which defines a sweeping new direction for computation and basic science, that is already having a profound effect in science, technology and the arts.

Our strategy as a company is to maintain a portfolio of development, from continually strengthening the core algorithms and systems of Mathematica, to supporting the latest high-performance computer architectures and deployment technologies, to developing major new concepts and capabilities—and delivering the results not only in Mathematica, but also in our other products, services, and experimental initiatives.
In our focus on long-term objectives, we have chosen to remain a closely held private company, and our consistent business success has allowed us to build a strong organization capable of pursuing a broad range of research and development. With a tightly knit core of fewer than 500 employees, we are able to take a unified approach to a remarkable range of interdisciplinary projects, efficiently developing major innovations and quickly implementing them in our products.

Our first two decades have seen a sequence of progressive achievements. Our ideas and products have spread throughout the fabric of modern science and technology, and informed a generation of technical innovation. And now we look forward to the increasing contributions that our uniquely positioned company can make in the years and decades to come.
---
Locations: Champaign, IL (worldwide headquarters); Oxfordshire, UK (European headquarters); Tokyo, Japan (Asian headquarters); with additional locations in Cambridge, MA; Paris, France; etc.