Maximum Automation
The Wolfram Language makes as much as possible automatic: you write a little code, and it automatically selects algorithms, organizes data, creates interfaces, optimizes presentation and sets up production deployment.
Incremental Interactive Programming
Because the Wolfram Language is interactive, you can run your code as soon as you write it, and because it's symbolic every fragment of code is instantly runnable—so it's easy to build up any program incrementally.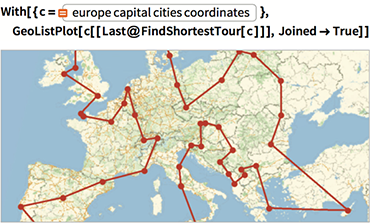 Tiny Code, Huge Functionality
A single line of code in the Wolfram Language routinely achieves what would take hundreds of lines in traditional languages, if it could be done at all. And the Wolfram Language code is elegant and readable too.
Integrated Documentation
Wolfram Development Platform lets you write your code in Wolfram Computational Notebooks, with text, graphics and interactive interfaces all directly integrated with your runnable code in a richly structured document.
High-Efficiency Computation
Wolfram technology has been used for years in some of world's most complex and demanding computational environments—and the structure of the Wolfram Language has made possible a new generation of highly optimized algorithms.
Deploy Instantly in the Cloud
With Wolfram Development Platform, you can instantly deploy your programs in the cloud, creating APIs, interactive web content, mobile apps and much more.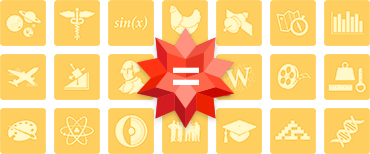 Algorithms & Knowledge Are Built In
The Wolfram Language incorporates the world's largest web of algorithms—as well as the vast Wolfram Knowledgebase used in Wolfram|Alpha—and makes everything instantly accessible in your programs.
The World's Highest Level Language
In the Wolfram Language most of the primitives are about images or networks or cities—not low-level machine operations.
Natural Language, When You Need It
The Wolfram Language has integrated natural language understanding—the same technology as Wolfram|Alpha—so your programs can take natural language input, and you can use natural language to help write your programs too.
Write in the Cloud, or on Your Desktop
Wolfram Development Platform lets you write, test and deploy your code directly in the cloud through any web browser. There's also a complete desktop interface that seamlessly connects with the cloud.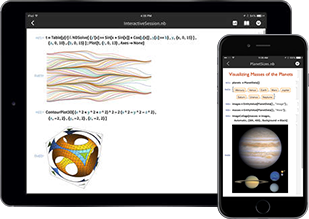 Develop And Deploy on the go
Use the Wolfram Cloud mobile app to view, edit and interact with your deployments on mobile. Write, test and deploy your code when and where it works for you.