Erweiterte Visualisierung
Version 10 refreshes the overall aesthetic for visualizations, combining a bolder, unified color scheme across all visualization functions, with new automatic computation of visual attributes such as point sizes, edge styles, surface colors, and axes positioning. Besides the default appearance, a whole set of themes easily and automatically changes how plots look for a variety of situations and uses. The visualization functions are also extended to automatically work on time series, associated arrays, and data with units.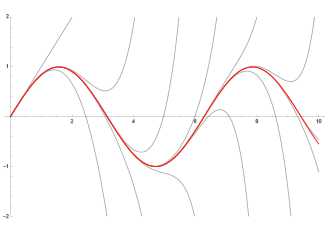 Neues Farbschema, das alle Visualisierungsfunktionen vereinheitlicht.
Einfaches

Ä

ndern der Darstellung und des Fokus von Diagrammen mittels Vorlagen.
Automatische Auswahl von Punktgr

ö

ß

en je nach Gr

ö

ß

e und Verteilung der Datens

ä

tze.
Spezielle Stile f

ü

r die Darstellung von Fl

ä

chen.
Besser kontrastierende Farben f

ü

r Nutzer mit reduzierter Farbwahrnehmung.
Automatisches Anpassen der F

ü

llungsstile an den Hauptstil der Visualisierung.
Automatisches Ausblenden der Balkenumrandungen in Histogrammen bei zunehmender Dichte.
Schnellere Wiedergabe von gro

ß

en und komplexen Punktmengen.
Automatisches Erstellen von Legenden nun auch f

ü

r Vektor- und Str

ö

mungsdiagramme sowie f

ü

r andere Spezialvisualisierungen.
Visualisierung von Daten direkt aus assoziativen Arrays mit der automatischen

Ü

bernahme der Schl

ü

sselwerte als Legende.
Direkte

Ü

bersetzung von Zeit- und Ereignisreihen in Visualisierungen.
Erstellung statistischer Graphiken auf der Basis gewichteter Daten.
Bei der Visualisierung von Daten oder Funktionen mit physikalischen Gr

ö

ß

en werden diese automatisch erkannt und nach Bedarf umgerechnet.
Visualisierung von Werten, Wertemengen und Ungleichungen auf der Zahlengerade.
Visualisierung von Mandelbrot- und Julia-Mengen.
Markierung von Orten auf einer Landkarte mithilfe vieler expliziter oder impliziter M

ö

glichkeiten.
Farbliche Differenzierung von Kartenregionen nach assoziierten Werten.