Temas de gr
á

ficos

Version 10 introduces plot themes to easily tailor plots for specific audiences, from business reports to technical articles. The built-in base themes provide a unified appearance and tone across visualization functions, and are easily tweaked using additional themes and options. Themes can be applied to a specific plot, a localized group of plots, or across the board.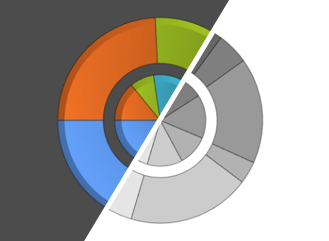 Cambie de forma sencilla la apariencia de un gr

á

fico simple.
Cambie de forma general la apariencia de todos los gr

á

ficos.
Seleccione un tema basado en la hoja de estilo del documento.
Cree autom

á

ticamente un tema desde un fondo de color.
Combine autom

á

ticamente m

ú

ltiples temas.
Utilice temas como punto de partida, usando opciones regulares para reemplazar o modificar la apariencia del tema.
Temas de negocio y de mercadeo para visualizaciones de gran impacto.
Temas detallados y cient

í

ficos para una cuidadosa interpretaci

ó

n.
Tema monocrom

á

tico para publicaciones en blanco y negro.
Colores iniciales

ú

nicos para personas con deficiencias de visi

ó

n de color.
Tema minimalista para usos emblem

á

ticos de gr

á

ficos.
Temas de Sparkline para incluir gr

á

ficos y diagramas directamente en el texto.
Los temas de ejes ajustan ejes, casillas, l

í

neas de cuadr

í

cula, etc.
Los temas de fuente ajustan el tama

ñ

o de la letra, el tipo, etc.
Los temas de tama

ñ

o ajustan el tama

ñ

o de la imagen, la forma, etc.
Los temas de autocompletar incluyen im

á

genes de muestra para una selecci

ó

n sencilla.