Zeitreihen
Version 10 introduces systemwide support for time series, whether they originate in finance, economics, signal processing, fitness, or other areas. Reading data from connected devices and accessing knowledge from data paclets are rich sources of time series data. Data analytics on time series, including descriptive statistics, visualization, or automated model fitting, etc., now just works.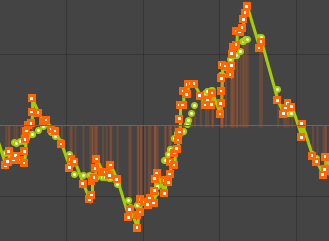 Ableiten von Zeitreihen ausgehend von realen Daten.

»

Darstellung von Daten diskreter Zeitreihen als Ereignisreihen.

»

Visualisierung und Vergleich verschiedener Zeitreihen.

»

Verwendung von regelm

ä

ß

igen und unregelm

ä

ß

igen Zeitreihendaten.
Verwendung von Zeitdaten in Zeitreihen als Strings, Listen oder Datenobjekte, unter Ber

ü

cksichtigung von Zeitzonen, unterschiedlichen Kalendern oder Feiertagen.
Verwendung von physikalischen Gr

ö

ß

en in Zeitreihen.
Gl

ä

tten von Zeitreihen mittels gleitender Mittelwerte oder anderer Filter.
Kumulieren von Zeitreihenwerten.
Anwendung beliebiger Funktionen mit Map auf Zeitreihenwerte.

»

Addition, Multiplikation und anderweitige Kombination von Zeitreihen.
Extraktion eines Zeitfensters aus einer Zeitreihe.

»

Berechnung deskriptiver statistischer Ma

ß

nahmen.
Einlesen von Zeitreihen von angeschlossenen Peripherieger

ä

ten und anderen externen Diensten.
Analyse von Zeitreihen aus Astronomie, Finanz, Bev

ö

lkerungsentwicklung und anderen Bereichen.
Erstellen von parametrischen Modellen auf Basis einer Zeitreihe.