Frequently Asked Questions:
Who is the Wolfram Student Ambassador Program for?
Full-time college students, including those in undergraduate, master's and PhD programs.
Will I get paid for being a Wolfram Student Ambassador?
While these positions are unpaid, they provide students with great educational and networking opportunities. Some student ambassadors have gone on to do work for us in our Partnerships and Training departments, while others have been invited to be TAs for our various Summer School Programs.
Do I need to know the Wolfram Language?
Yes. We require a working knowledge of the Wolfram Language, but the skill level needed varies from beginner to experienced, based on the activities an ambassador will be doing.
What is considered an event?
An event is a collaborative educational experience with other students, whether that be at a workshop, meet-up or tech talk, or as a mentor at a hackathon.
What is considered an activity?
It can be anything from posting on official social media, placing flyers or handing out swag to writing a blog or making a contribution to the Wolfram Student Ambassador newsletter.
Will the program help on internship and job applications?
Being a student ambassador showcases your leadership, technical abilities, communication skills and initiative, all of which will help you stand out.
How much of a time commitment will be expected?
It varies from student to student, but we would like a commitment of 5–10 hours a month.
How long is the typical length of membership?
Ambassadorship is on a semester-to-semester basis. If you are a student ambassador in good standing, then you can continue for as long as you are a student at that university.
Will this lead to a job?
You will gain valuable experience and a connection with the company, but this is not a direct path to employment. Wolfram Research has internships as well as full-time, permanent positions available.
Who is the program coordinator?
The program coordinator is the individual responsible for overseeing the Wolfram Student Ambassador Program and for the success of the student ambassadors. She/he will be the main person of contact throughout your participation in the program.
Do I need to be in the US?
No, but you need to be fluent in English, have an internet connection and be available by phone. This program is now on an international scale, though there are some limitations regarding schools that can have a student ambassador on their campuses.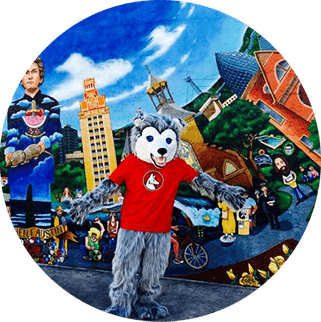 How do student ambassadors collaborate?
There are several opportunities available for collaboration. The program coordinator hosts a quarterly roundtable with all of the student ambassadors. There is a Facebook group available to share ideas and experiences, as well as monthly regional calls to foster small group discussions.
What is a roundtable?
A roundtable is a quarterly, all-ambassador video conference among the student ambassadors. We invite one or more of our developers to demonstrate new capabilities and answer questions. Top ambassadors will also have the chance to showcase their projects to the rest of the group. Roundtables are an opportunity for everyone in the group to discuss the activities they hosted on their campuses and to seek collaboration or help.
There is already a student ambassador at my school; am I still able to be one?
Most schools will have one, though exceptions can be made for students in different focus areas.
How does this compare to other student ambassador programs?
Other student ambassador programs are focused on using social skills, while this distinct program enables you to further develop your technical skills. As a Wolfram Student Ambassador, you are treated like another member of the Wolfram family and get the same access to training and technology as everyone else. You also get access to private, ambassador-only previews of new features. Unlike other student ambassador programs, this program allows you to connect and interact with our developers to expand your network. We enable you to shape part of the program through feedback and suggestions. The Wolfram Student Ambassador Program is about empowering your technical abilities and bridging new connections.