Wolfram for
FIRST Robotics
At Wolfram, we've been changing the world with our products and ideas for nearly three decades, and we're always excited to see students motivated to do the same. Our technology stack is built on the revolutionary Wolfram Language—and you'll find that a little Wolfram Language code goes a long way when you're working at the frontiers of technological innovation.
Wolfram is proud to support the FIRST® Robotics Competition, and we wish you the best in your tournament season this year. Check out these resources and special offers to give your FRC team the competitive edge. SPECIAL OFFER
Code Redemption
Get free access to Wolfram Mathematica, Wolfram System Modeler and Wolfram|Alpha Pro! To redeem your voucher from the FRC Vendor Catalog, click here. Find your redemption codes in the FRC virtual kit vendor catalog. In addition to the voucher code, students must also enter their team name and coach name in the provided fields.
(Offer expires June 1, 2023.)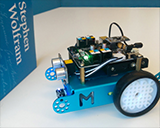 PROJECT SPOTLIGHT
mBot for Real-Time Data Processing
Wolfram Summer School student and FIRST mentor Sa'di Altamimi spent his summer designing an exploration and demo to teach students how to collect, process and visualize real-time data using the Wolfram Language with Mathematica and mBot robots. Learn more.
Wolfram Technologies

AN ELEMENTARY INTRODUCTION TO THE WOLFRAM LANGUAGE
Stephen Wolfram's online book is an introduction to the Wolfram Language and modern computational thinking—no prior knowledge of programming is required.
Read the book online

Bring Wolfram-powered integrated design optimization to modeling and simulation of large-scale robotics, engineering and other systems.
---
Team Development Resources

WOLFRAM LANGUAGE
Newly available with full deployment options, the Wolfram Language is the result of decades of leading-edge language development. Unique in its philosophy of building in a vast array of algorithms, knowledge and interfaces, it is designed to be the world's smartest and most productive programming language.
Explore the Wolfram Language

WOLFRAM LANGUAGE DOCUMENTATION
Full documentation for the Wolfram Language, with 100,000+ immediately usable examples.
Explore the Wolfram Language

WOLFRAM LANGUAGE + RASPBERRY PI
In partnership with the Raspberry Pi Foundation, the Wolfram Language and Mathematica are bundled as part of the standard system software for every Raspberry Pi—offering a quick-to-deploy, yet full-power embedded solution.
Learn more

WOLFRAM DATA DROP
Accumulate data of any kind, from anywhere—automatically setting it up for immediate visualization, analysis, querying or other operations. Connect to the IFTTT Data Drop channel to do even more.
Create a databin

WOLFRAM FOR HACKATHONS
Take big ideas and turn them into reality in the space of a hackathon. See what award-winning projects have been created by students using Wolfram technologies.
Browse sample projects

WOLFRAM DEMONSTRATIONS PROJECT
Over 10,000 open-code interactive Demonstrations implemented in the Wolfram Language.
Start practicing now

WOLFRAM|ALPHA PRO
Access the Wolfram|Alpha platform at multiple levels—from individual results to complete Wolfram|Alpha output pages. The API operates as a high-performance REST-style web service, with convenient bindings for popular languages and platforms.

WOLFRAM MATHEMATICA
Start using today's most advanced programming language to create amazing programs, and get introduced to modern computational thinking.

CONNECT WITH WOLFRAM COMMUNITY
Ask questions and get ideas from the diverse community of users who are leveraging the Wolfram technology stack in divergent and exciting new ways for business, personal and recreational use.
Get connected in the Community

---
---
---