Frequently Asked Questions:
Who is the Wolfram Student Ambassador Program for?
Full-time college students, including those in undergraduate, master's and PhD programs who are proficient in the Wolfram Language. We also accept exceptional high-school students with proven Wolfram Language ability.
Will I get paid for being a Wolfram Student Ambassador?
While these positions are unpaid, they provide students with great educational and networking opportunities. Some student ambassadors have gone on to do work for us in our Partnerships and Training departments, while others have been invited to be TAs for our various Summer School Programs.
Do I need to know the Wolfram Language?
Yes. We require a working knowledge of the Wolfram Language, but the skill level needed varies from beginner to experienced, based on the activities an ambassador will be doing.
What do student ambassadors actually do?
Students can host workshops, club meetings, hackathons or other events on campus. Students can also write computational essays and community posts or simply write social media posts. Students are encouraged to complete a variety of tasks! Ambassadors are welcome to explore new possible tasks and can work with the program coordinator to make their ideas reality.
Will the program help on internship and job applications?
Being a student ambassador showcases your leadership, technical abilities, communication skills and initiative, all of which will help you stand out. Ambassadors will have the opportunity to interact with Wolfram developers and staff for professional and academic advice.
How much of a time commitment will be expected?
It varies from student to student, but we would like a commitment of 5–10 hours a month.
How long is the typical length of membership?
Ambassadorship is on a semester-to-semester basis. If you are a student ambassador in good standing, then you can continue for as long as you are student.
Will this lead to a job?
You will gain valuable experience and a connection with the company, but this is not a direct path to employment. Wolfram Research has internships as well as full-time, permanent positions available.
Who are the program coordinators?
The program coordinators are the individuals responsible for overseeing the Wolfram Student Ambassador Program and for the success of the student ambassadors. Your program coordinator will usually be based in your region.
Do I need to be in the US?
No. We currently have ambassadors in the US, South America, Europe and Asia. All motivated applicants regardless of location are welcome in our program, you must be proficient in English to communicate and write media.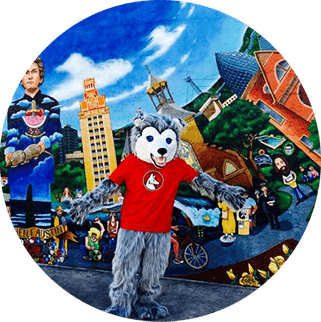 How do student ambassadors collaborate?
There are several opportunities available for collaboration. The program coordinators host several roundtables each year for their students. Student ambassadors also join a Slack group, where they can communicate with each other and with their program coordinator.
What is a roundtable?
A roundtable is an all-ambassador video conference with Wolfram developers. We invite one or more of our developers to demonstrate new technologies and capacities and answer student questions. We also offer the opportunity for student ambassadors to present their projects and to seek collaborators and assistance.
There is already a student ambassador at my school. Can I still apply?
Most schools will have only one ambassador, though exceptions can be made for students in different focus areas.
How does this compare to other student ambassador programs?
Other student ambassador programs are focused on using social skills, while this distinct program enables you to further develop your technical skills. As a Wolfram Student Ambassador, you are treated like another member of the Wolfram family and get the same access to training and technology as everyone else. You will get full access to Wolfram's technology suite and beta and preview features. Unlike other student ambassador programs, this program allows you to connect and interact with our developers to expand your network. We enable you to shape part of the program through feedback and suggestions. The Wolfram Student Ambassador Program is about empowering your technical abilities and bridging new connections.