‹
›
Multilingual Functionality
Letters within a Text
The Japanese language uses three different writing scripts.
In[1]:=

Entity["Language", "Japanese"]["WritingScripts"]
Out[1]=

These are the hiragana characters.
In[2]:=

hiraganaCharacters = Alphabet[Entity["WritingScript", "Hiragana::jx343"]]
Out[2]=

Highlight hiragana characters in the following Japanese text.
In[3]:=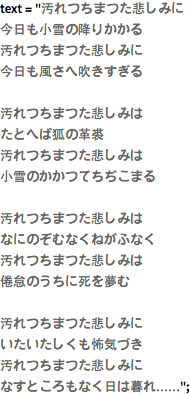 text = "汚れつちまつた悲しみに 今日も小雪の降りかかる 汚れつちまつた悲しみに 今日も風さへ吹きすぎる 汚れつちまつた悲しみは たとへば狐の革裘 汚れつちまつた悲しみは 小雪のかかつてちぢこまる 汚れつちまつた悲しみは なにのぞむなくねがふなく 汚れつちまつた悲しみは 倦怠のうちに死を夢む 汚れつちまつた悲しみに いたいたしくも怖気づき 汚れつちまつた悲しみに なすところもなく日は暮れ\[Ellipsis]\[Ellipsis]";
show complete Wolfram Language input
In[4]:=

StringReplace[text, x_ /; MatchQ[RemoveDiacritics[x], Alternatives @@ hiraganaCharacters] :> ToString[Style[x, FontColor -> Red], StandardForm]]
Out[4]=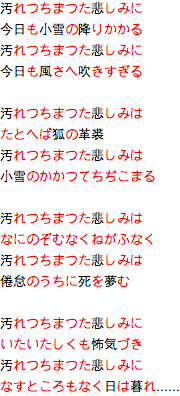 Use WordCloud to show the relative frequency of hiragana characters in the text.
In[5]:=

WordCloud[ StringCases[text, x_ /; MatchQ[RemoveDiacritics[x], Alternatives @@ hiraganaCharacters]]]
Out[5]=