绘图主题
Version 10 introduces plot themes to easily tailor plots for specific audiences, from business reports to technical articles. The built-in base themes provide a unified appearance and tone across visualization functions, and are easily tweaked using additional themes and options. Themes can be applied to a specific plot, a localized group of plots, or across the board.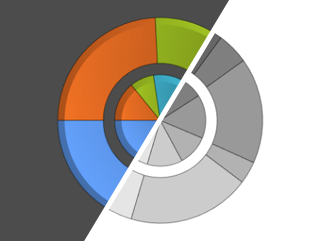 简单更改单个绘图的外观.
全局更改所有绘图的外观.
根据文档样式表选择主题.
用背景颜色自动创建主题.
自动合并多个主题
将主题作为起步点,用一般选项覆盖或修饰主题外观.
用于高效可视化的商务和市场主题.
用于准确诠释的详细和科学主题.
用于黑白出版的单色主题.
帮助有视觉障碍者的独特初始颜色.
用于绘图图标使用的最小化主题.
用于将绘图和图表直接包含在文本中的迷你图主题.
调整轴、刻度和网格线等的轴主题.
调整字体大小、类型等的字体主题.
调整图像大小、形状等的尺寸主题.
包括用于方便选择的图像范例的自动完成主题.