GeometricalGeodesy
Advanced Geodetic Computation in Mathematica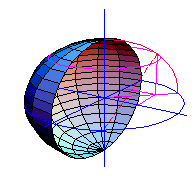 GeometricalGeodesy implements everything necessary for fundamental geodesy and analytical cartography. It computes coordinates in various data and coordinate systems, contains algorithms for classical forward and inverse problems, and enables computations with the extended Newton-Raphson, Robbins, and Vincenty methods. A large selection of reference ellipsoids and geodetic data is provided, which can be user-supplemented.

Key Features
Units section defines many linear and angular units.
Contains many geodetic reference ellipsoids used in surveying and mapping.
Can use input projections to implement the Universal Transverse Mercator and State Plane Coordinate systems.
Provides a standard geometrical geodesy core, allowing a broad range of advanced computations.

About the Developer
Dr. Thomas H. Meyer, the developer of GeometricalGeodesy, is an associate professor in the Department of Natural Resources Management and Engineering at the University of Connecticut. He received his Ph.D. from Texas A&M University and earned an M.S. in computer science from the University of New Mexico.
Product Support
GeometricalGeodesy is developed and supported by Dr. Thomas Meyer.
Thomas H. Meyer, Ph.D.
Associate Professor
University of Connecticut
Department of Natural Resources Management and Engineering, U-4087
Wilfred B. Young Bldg Rm 308
1376 Storrs Rd
Storrs CT 06269-4087
USA
email: thomas.meyer@uconn.edu

---
GeometricalGeodesy requires Mathematica 5.1, 5.2, 6.0, 7.0, or 8.0 and is available for Windows, Mac OS X, and Linux.

GeometricalGeodesy is © 2006 University of Connecticut. ALL RIGHTS RESERVED.