Functions Using Service Credits
Search for webpages, including snippet text etc. Providers: Microsoft, Google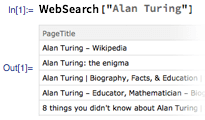 Translate text to and from dozens of languages. Providers: Microsoft, Google

Search for images on the web, immediately retrieving thumbnails etc. Providers: Microsoft, Google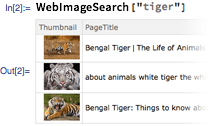 Get high-resolution satellite imagery of the Earth down to below 1-meter resolution. (experimental) Provider: DigitalGlobe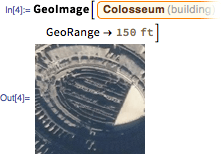 Service Credits Rates
WebSearch

(providers: Microsoft, Google)

3 credits

for up to 10 results

WebImageSearch

(providers: Microsoft, Google)

3 credits

for up to 10 results

TextTranslation

(providers: Microsoft, Google)

10 credits

per 1,000 characters

GeoImage**

(provider: DigitalGlobe)

1 credit

per 15 tiles

SendMessage (SMS)

(provider: Twilio)

4 credits

per message

SendMessage (MMS)

(provider: Twilio)

10 credits

per message
**Not billed during experimental period
Pricing for Service Credits
500 credits

$3

$6.00

(cost per thousand)

5,000 credits

$25

$5.00

(cost per thousand)

20,000 credits

$100

$5.00

(cost per thousand)

240,000 credits

$1,000

$4.17

(cost per thousand)

Large-scale and enterprise deployments
Contact us »
FAQ's
Am I eligible to buy Service Credits?
If you have a Wolfram ID, you can purchase Service Credits.
How long are my Service Credits good for?
Service Credits remain active as long as they are used regularly. If no credits are purchased or used on your account for one year, your credits will expire.
Can I get a refund on unused credits?
No. Service Credit purchases are final.
Do I have to buy Service Credits?
If you are using services that require them, yes. For example, Integrated Service functions require Service Credits to execute.
What happens to my programs if I run out of Service Credits?
Further calls to integrated services will be disabled until sufficient Service Credits are added to the account.