Customer Stories ›
Exploratorium Educates with Mathematica
"The graphics! Mathematica is so amazing, and it's extremely versatile."
The Exploratorium in San Francisco delivers information about science, nature, art, and technology in an engaging, interactive environment unlike any other. Children and adults who enter its doors visit exhibits that teach without lecturing, and leave enlightened. Employees of the Exploratorium also learn as they teach, and for Ron Hipschman Mathematica is a part of this process.
"Mostly I use Mathematica to generate graphs and animations that explain various physical phenomena," says Hipschman, the Exploratorium's webmaster (web site designer). Hipschman's explanations appear in the museum's magazine Exploring and in lessons delivered on the web.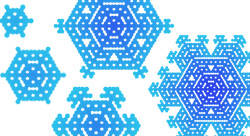 Related Stories
Tell Us Your Story
Get started with Wolfram technologies, or work with us to apply computational expertise to your projects.
Questions? Comments? Get in touch: 1-800-WOLFRAM, or email us »