Customer Stories ›
Möbius-Shaped Playground Climber Designed for Fun and Safety with Mathematica
"Mathematica's notebook capabilities made it easy for everyone to get a handle on the shape of designs and to see where our ideas were heading. This made the whole project run smoothly and on time."
Kids in Boca Raton, Florida have been clamoring for Mathematica... well, at least the Möbius Climber created using Mathematica. The new playground addition, based on an idea of Jerome Schwarz and worked out and refined by Gerald Harnett and Sean Powers, is in essence a fattened Möbius strip made of 64 different-sized triangles resting on 17 pipes.
"From the lumber cuts to the bolthole locations, Mathematica was vital in the visualization of the design," Harnett said. "With safety considerations being paramount, we needed a tool that we could trust to try out various design ideas and come up with the best, and most fun, solution."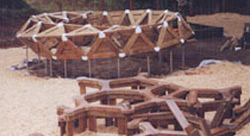 Related Stories
Tell Us Your Story
Get started with Wolfram technologies, or work with us to apply computational expertise to your projects.
Questions? Comments? Get in touch: 1-800-WOLFRAM, or email us »