New in Mathematica 9
Gauges
Mathematica 9 adds gauges to the collection of built-in visualizations. The position markers, as well as the gauge frames and faces, can be customized using one of the many built-in elements or with a completely customized element. Labels for gauges can automatically pick up values and units, and make full use of Mathematica's powerful typesetting abilities. Great for dashboards and reports, gauges can also be used as interactive controls for interfaces.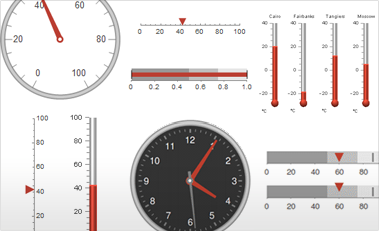 Angular, horizontal, and vertical and thermometer gauges for showing values in a range.

»

Bullet gauges for showing values relative to various references.

»

Clocks for displaying times.

»

Fully customizable needles and markers.
Use continuous or segmented cumulative markers.
Fully customizable frames for gauges.
Built-in support for units.
Flexible labeling system, including automatic label generation and placement.
Specify labels for clocks using named date and time components.
Emphasize ranges of values by changing the background and scale styles.
Show multiple values using multiple automatically styled needles and markers.
Use gauges as controls for interfaces.
Create efficient dashboards by using dynamic arguments to gauges.