Platform Support for CDF
Wolfram CDF Player offers desktop functionality for Windows, Mac and Linux systems. CDFs shared or deployed through the Wolfram Cloud work on any device, using any modern web browser.
Use CDF on the go with the Wolfram Cloud app, which provides an optimized mobile experience for viewing and interacting with cloud deployments, or with the Wolfram Player app for iPad, available in prerelease (as of November 2016), which natively computes and displays interactive content offline.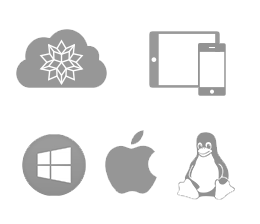 Mac 10.9+
Includes plugin for 32-bit Safari & Firefox.
Windows 10/8/7
Includes plugin for 32-bit Internet Explorer & Firefox.
Linux 2.6+*
Desktop application only; browser plugin available for Mac and Windows for those browsers that support it.
System requirements:
Processor: Intel Pentium 4 2.4 gHz or equivalent
System Memory (RAM): 512 MB required; 2 GB+ recommended
Contact us for more details regarding CDF support for specific mobile platforms.