Customer Stories ›
Innovative Textile Designs Result from Mathematica Physics Visualizations
"Mathematica literally smears away the border between your research and the art. With its programming language you care more about the concept than you do of the implementation and, using it artistically, you can rely on its front end to bring out your ideas on all stages from creating a small 3 x 3" prototype to printing out actual large-scale artwork. It's a fascinating tool to do graphic design if your brain creates art as algorithms."
The Mathematica Edge
Symbolic
Numeric
Graphic
Notebook
Programming
Buyer beware! When shopping for an upscale blouse in the most prestigious department stores in Japan, you might encounter Mathematica and not even know it. That's because the very fabric that makes that shirt might have been designed by Igor Bakshee, an avid Mathematica aficionado and user.
Bakshee, a physicist, got into fabric design when doing research on statistical radiophysics in Science University of Tokyo. His design work started with a routine application of a particular type of stochastic processes, the so-called 1/f fluctuations. From there, the transition from physicist to artist was so fast that Bakshee was soon doing design for several major Japanese textile companies. Bakshee's work became more and more in demand, and he used Mathematica to create designs for everything from blouses to gift wrap to office wall hangings to fine art prints. His work became so popular, it was even noticed by the folks at Wolfram Research, and we liked his work so much we hired him!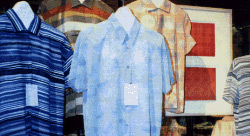 Related Stories
Tell Us Your Story
Get started with Wolfram technologies, or work with us to apply computational expertise to your projects.
Questions? Comments? Get in touch: 1-800-WOLFRAM, or email us »