Why Mathematica and Wolfram?
Mathematica is a state-of-the-art computation, development and deployment software that will give EKB users the means to transform their learning journey and the skills to help create the next generation of Egyptian scholars, scientists and leaders. As far back as 1988, Steve Jobs, CEO of Apple Inc., recognized this:
"Mathematica will revolutionize the teaching and learning of math by focusing on the prose of mathematics without getting lost in the grammar."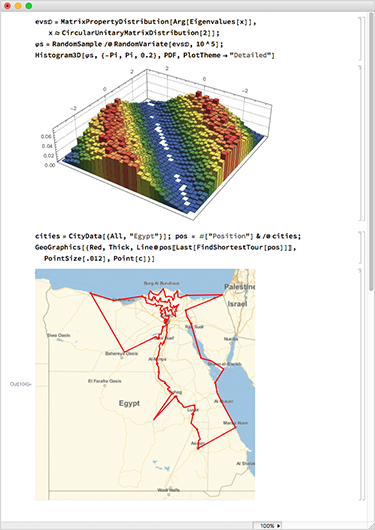 Think of it as a super calculator for every kind of math you could ever imagine: it contains an extensive knowledgebase for working with a very broad range of tasks, including solving equations, programming, importing and exporting data, visualizing functions and data and much more. It covers traditional fields like algebra, calculus and trigonometry, and new fields like machine learning, image processing and data science. What's unique about Mathematica is its ability not only to work with numbers but also with symbols, and to produce amazing graphics and instantly create interactive models and documents for collaboration.
Mathematica can be used in a variety of ways—you can type individual commands (in a free-form, linguistic input if you want) and get an answer, or learn to build up sophisticated programs. All the while, you are prompted and supported by a predictive user interface and a detailed, interactive documentation system.
The Wolfram Language (which Mathematica is built upon) is designed for a new generation of programmers: it contains a vast depth of built-in algorithms and knowledge, all automatically accessible through its elegant unified symbolic language. With its intuitive, English-like function names and coherent design, the Wolfram Language is uniquely easy to read, write and learn—ideal for education in coding too.
Mathematica is suitable for data scientists, engineers, scientists, economists, financial analysts, researchers, mathematicians, hobbyists, educators, students and even artists!