New in Mathematica 9
Survival Analysis
Mathematica 9 provides fully automated, broad-ranging support for handling censored and truncated data, optimized parametric and nonparametric survival modeling frameworks, and a range of generalized hypothesis-testing functions, such as weighted log rank, Wald, likelihood ratio, and score tests. The seamless integration with Mathematica's powerful hybrid symbolic-numeric computation engine makes performing survival analysis tasks easier and more flexible than ever before.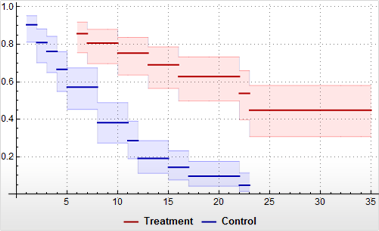 Optimized and automated handling of left, right, and interval censoring and truncation.
Descriptive statistics of censored and truncated data.
Estimation of parametric distributions (Weibull, exponential, etc.) from censored data.
Nonparametric survival estimators such as Kaplan-Meier, Nelson-Aalen and Turnbull.
Pointwise and simultaneous confidence bands for survival and cumulative hazards.
Semiparametric Cox proportional hazards model fitting and visualization.
Model fitting and testing with stratification and interaction terms.
Cox-Snell, martingale, deviance, Schoenfeld, and efficient score residuals.
Flexible Wald, likelihood-ratio, and score tests for parameter estimates.
Weighted log-rank tests for equal hazard rates between any number of groups.