Upgrade Your Spreadsheets with Advanced Computation
Wolfram CloudConnector for Excel provides a simple, direct interface to high-powered Wolfram Language computations. Packaged as a lightweight plugin, CloudConnector uses Excel's formula syntax to call custom APIs—deployed in the Wolfram Cloud for centralized access anytime, anywhere.
Excel Users
Seamlessly connect the classic spreadsheet interface into Wolfram computations and data.
Developers
Instantly share custom Wolfram Language APIs with Excel users across your enterprise. If you currently deploy by developing libraries, switch to a server-side API model for easy deployment and built-in security.
System Administrators
Scale up your Excel users' capabilities with minimal installation and maximum security when combined with a Wolfram Enterprise Private Cloud (EPC).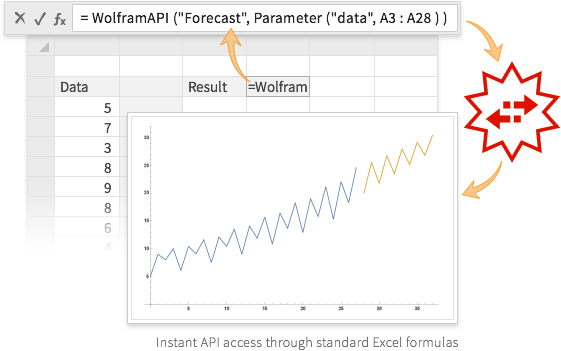 Workflow Comparison
Doing enterprise-level analytics in Excel requires custom libraries and data connections, but maintaining disparate local installations is time-consuming and inefficient. Using CloudConnector for Excel gives developers the power to write once and deploy instantly to Excel users anywhere.
Computation Process with CloudConnector for Excel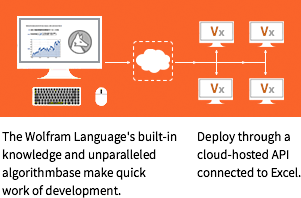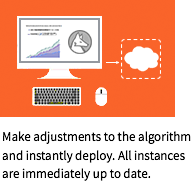 Individual Computation–Based Process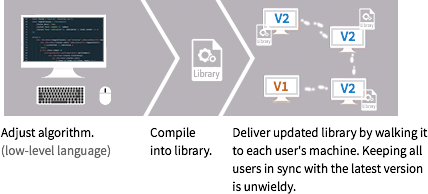 Streamline Your Excel Workflow Today with Enterprise Computation
Try CloudConnector for Excel
Log in with your Wolfram ID to get your copy of CloudConnector for Excel.
Learn How It Works
Read through our step-by-step examples to learn how to use CloudConnector for Excel.
Get More Info
Find out more about CloudConnector for Excel, or get a personalized consultation for your organization.