Wolfram for

Content Development & Publishing
Create & publish interactive, computable content with Wolfram's unique computational intelligence platform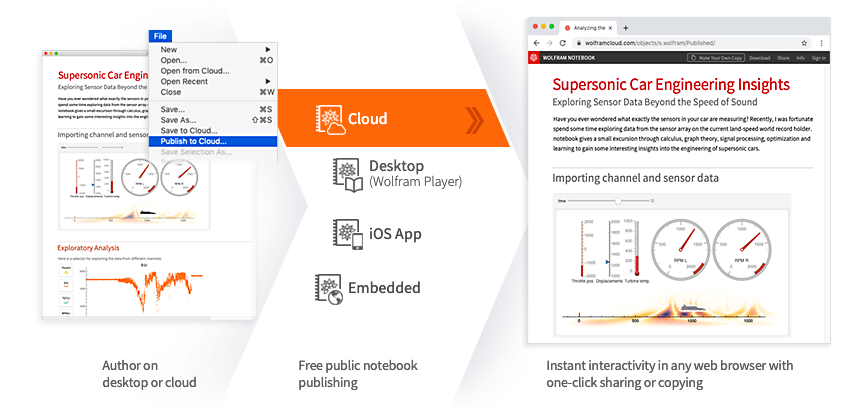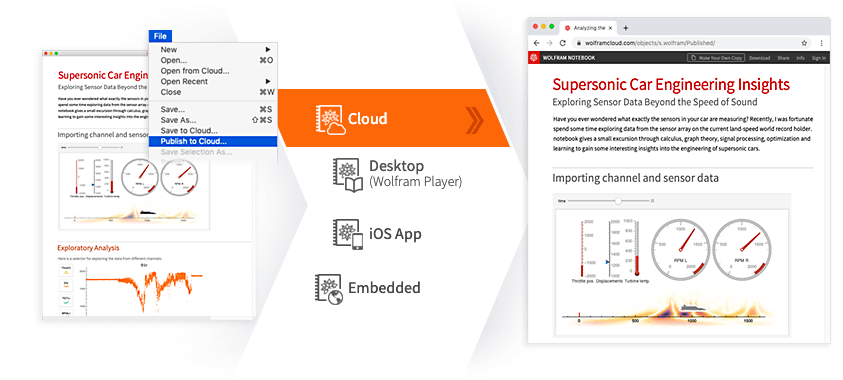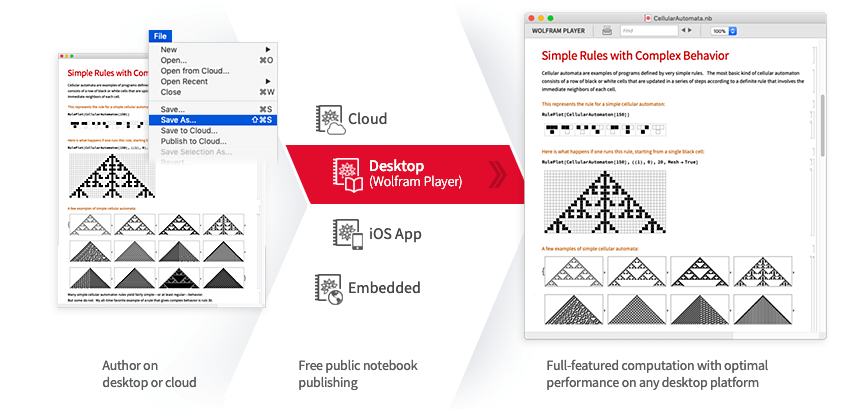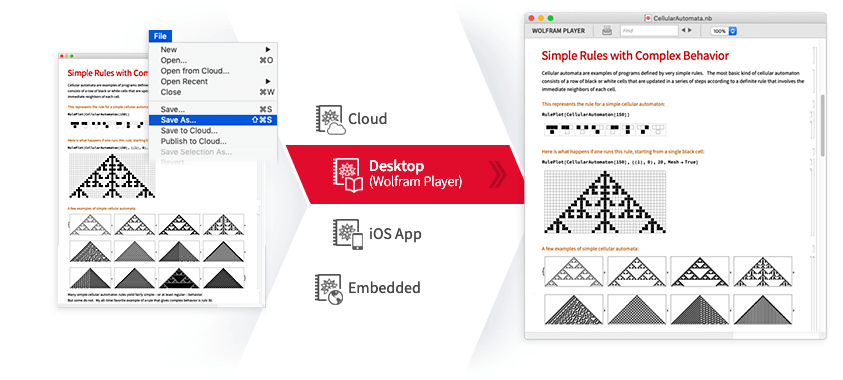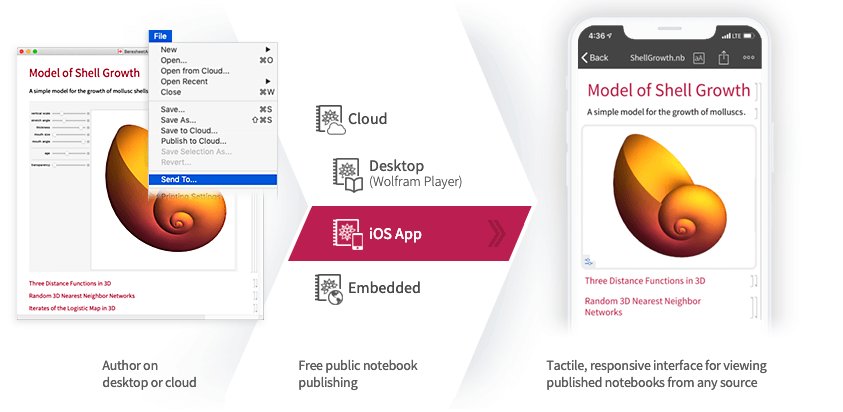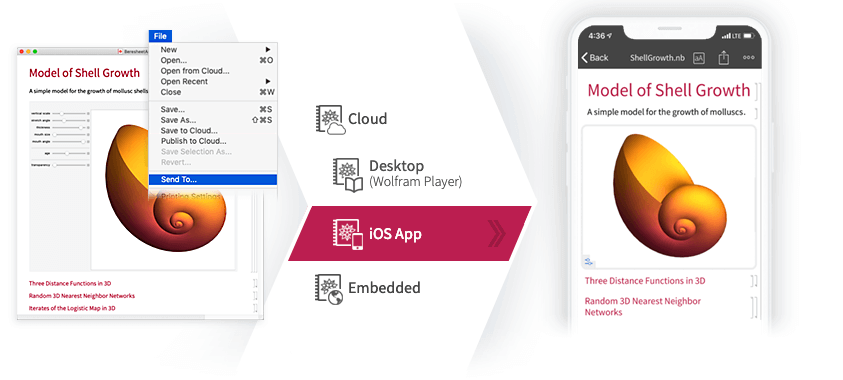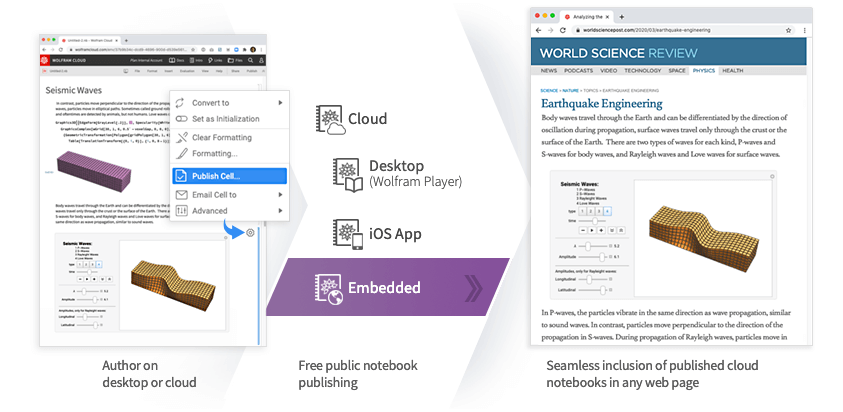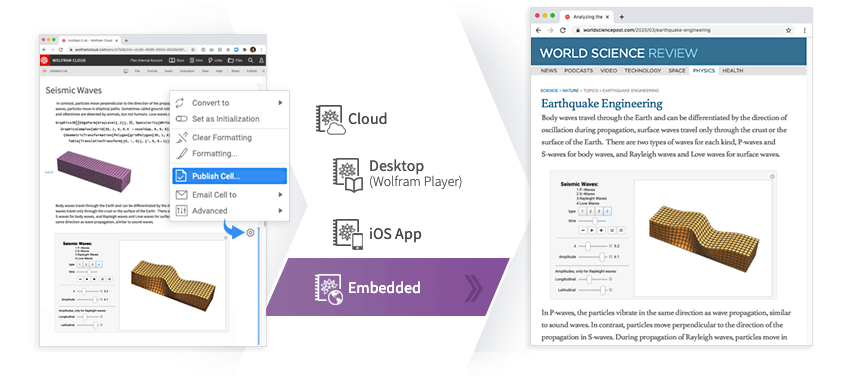 The Wolfram Advantage
Unique Computational Publishing Workflow
The Wolfram Language is ideal for creating computational essays and other interactive content—getting started with ready-made examples, curated data and interactive development, then sharing content using automated document generation and instant publishing on any platform. More
Public or Private Cloud
You can deploy and distribute to the public Wolfram Cloud or your own in-house Enterprise Private Cloud, with extensive options for protecting and monetizing your content. More
Cross-Platform Content Creation
The Wolfram HyperArchitecture unifies desktop, cloud and mobile functionality so you can create, share and interact with content equally across any medium.
Innovators of the Computational Notebook
Wolfram Notebooks offer the preeminent environment for any technical workflows—data science, modeling, research and education—empowering users with literate programming, easy-to-author interactivity and universal deployment across all platforms. More
Industry Leaders in Technical Visualization
The Wolfram Language provides automated construction, styling and labeling for all kinds of 2D and 3D graphics, advanced image processing and publication-quality typesetting, so you can easily create the same professional Wolfram visualizations used in journals and textbooks worldwide.
Long-Term Compatibility (30 Years and Counting)
Wolfram's unique software design process focuses on backward compatibility and long-term consistency for robust, reliable content that's supported over decades of technology continuity. More
Deployment Features
Publishing is easy with Wolfram technology, from simple sharing of ideas to commercial content distribution. You can deploy any Wolfram Language expression—from a single output to a complete notebook—as a standalone asset for distributing, embedding or printing it wherever you need it.

One-Click Publishing
Share any Wolfram Notebook with the push of a button, sending it directly to the Wolfram Cloud for free interactive reading, downloading on any platform.

Universal Storage for Your Assets
Deploy your data, code and other expressions to the cloud in a variety of formats, maintaining consistent access for real-time interactivity and data-backed publication.

Embedding for Blogs and CMSes
Embed content directly with oEmbed or our WordPress plugin—powered by the Wolfram Notebook Embedder JavaScript library—or add to Blackboard, D2L, Wolfram Community and other websites using the JavaScript library or simple iframes.

Automated Document Generation
Create reports, presentations and other interactive content from notebook templates on a schedule or on demand, computing on data from any source or information entered through a dynamic form interface.

All-in-One Content Creation System
Start with built-in knowledge and examples, fill your notebook with structured headings, styled text, formulas, code, graphics and images, then export to PDF, TeX, HTML or other digital/print formats for course materials, ebooks, Arxiv submissions, etc.

Support for Commercial Distribution
Bring professional content from concept to publication and beyond with scalable interactivity, secure sharing through public or private clouds, and flexible licensing and DRM.
"We make these fantastic internal presentations that are dynamic and interactive in our own lab notebooks, and we can share them with the rest of the world, particularly with investors and vendors when we want to show them particular things that we've discovered."
Brian Frezza, Co-founder & Co-CEO, Emerald Therapeutics
"Providing a customer with an interactive data view is much more effective than static graphs in a PowerPoint presentation."
Steven R. Stuve, Senior R&D Engineer, Hamlin Electronics
"Because I can change parameters on the fly, rerun models, and present results, Wolfram Notebooks liberate me from the confines of static depictions of models."
Seth J.Chandler, Professor of Law, University of Houston Law Center
"After using the Briggs/Cochran Calculus ebook that uses Wolfram technology, many faculty members have told us, 'This is how calculus should be taught.' [It] has exceeded our expectations and won several industry awards."
Bill Hoffmann, Executive Editor, Pearson
"Wolfram technology let me compose the text and all 650 interactive figures in the same document. Even better, it creates a unique eBook that lets you actually interact with the figures on the page through dynamic computation."
Eric Schulz, Author and Instructor, Walla Walla Community College
"I'm quite excited about Wolfram Notebooks. It's extremely difficult for us to present our findings if we are restricted to PDF, which can only show static images, and notebooks just change that instantly."
Daniel Zicha, Head of Light Microscopy, Cancer Research UK
Resources
Check out some Wolfram content